PPC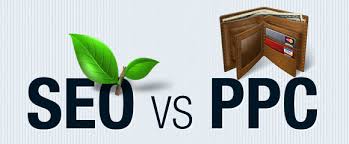 Search Engine Optimisation and Pay Per Click advertising are both very popular methods of getting traffic to your website online – but which is better? Search engine optimisation is the process of improving your rankings in the search results. One of the great things about search engine optimisation is that it is almost completely free. It is possible to learn search engine optimisation yourself and implement the techniques without paying someone else. However, search engine optimisation is an on going process. As more and more people are implementing techniques that help them move up the rankings, it is getting more competitive to stay on page one of the results.
Pay per click advertising such as Google AdWords involves setting up a campaign where you choose the keywords you want your ads to appear under. You then only pay when someone clicks on your advert. The price of a click can vary depending on the competitiveness of the keyword, the relevancy of your advert and how much you are willing to bid. The best thing about PPC campaigns in my opinion is that you have the option to rank high on keywords that you otherwise may not without having to do any SEO work. You might have to pay more for the click but if the mark up on your product or service is large enough then the returns will still be good. When both forms of advertising are applied to an online marketing strategy, they can be extremely effective in ensuring the best traffic comes to your website.
Peter Zmijewski is the founder and CEO at KeywordSpy. His expert knowledge on Internet Marketing practices and techniques has earned him the title "Internet Marketing Guru" He is also an innovator, investor and entrepreneur widely recognized by the top players in the industry.